Dogma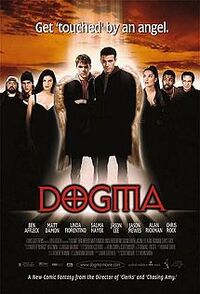 Release Date(s)
November 12, 1999

Dogma is a 1999 American adventure fantasy comedy film written and directed by Kevin Smith, who also stars in the film along with an ensemble cast that includes Ben Affleck, Matt Damon, Linda Fiorentino, Alan Rickman, Bud Cort, Salma Hayek, Chris Rock, Jason Lee, George Carlin, Janeane Garofalo, Alanis Morissette, and Jason Mewes.
Brian O'Halloran and Jeff Anderson, the stars of Smith's debut film Clerks, have cameo roles, as do Smith regulars Scott Mosier, Dwight Ewell, Walt Flanagan, and Bryan Johnson.
The fourth film set in the View Askewniverse is a hypothetical-scenario film revolving around the Catholic Church and Catholic belief, which caused organized protests and much controversy in many countries, delaying release of the film and leading to at least two death threats against Smith. The film follows two fallen angels, Loki and Bartleby, who, through a loophole in Catholic Dogma, find a way to get back into Heaven after being cast out by God. However, as existence is founded on the principle that God is infallible, their success would prove God wrong and thus undo all creation. The last scion and two prophets are sent by the Voice of God to stop them.
Aside from some scenes filmed on the New Jersey shore, most of the film was shot in Pittsburgh, Pennsylvania.
In the beginning of the film, there is a set of messages placed there by input of Harvey Weinstein. These are supposed to be serious and remind viewers the movie is fictitious. Even though Kevin puts his own spin on it.
Cast