Clerks II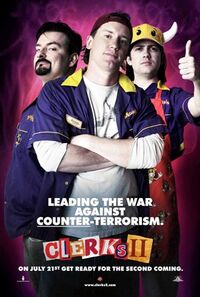 Producer(s)
Scott Mosier
Laura Greenlee
Carla Gardini
Bob Weinstein
Harvey Weinstein
Release Date(s)
July 21, 2006

Clerks II is a 2006 American comedy film written and directed by Kevin Smith, sequel to his 1994 film Clerks, and his sixth and latest feature film to be set in the View Askewniverse. The film stars Brian O'Halloran, Jeff Anderson, Rosario Dawson, Trevor Fehrman, Jennifer Schwalbach Smith, Jason Mewes and Kevin Smith, and picks up with the original characters from Clerks: Dante Hicks, Randal Graves and Jay and Silent Bob 10 years after the events of the first film.
Cast
The main characters from the original film are Dante, Randal, and Jay and Silent Bob. Walt Flanagan and Smith's mother, Grace Smith, both make cameos at the end of the film as customers in the new Quick Stop, reprising their roles in the original film. Flanagan is the customer who asks for a pack of cigarettes, while Grace Smith is the one who checks each gallon of milk for the expiration date. Long time View Askew actors Ben Affleck and Jason Lee make a cameo as Mooby's customers as does comedian/actress Wanda Sykes.
Community content is available under
CC-BY-SA
unless otherwise noted.