Clerks: The Animated Series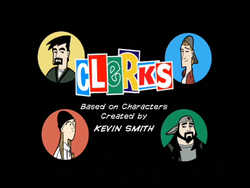 Creator(s)
Kevin Smith
David Mandel
Developer(s)
David Mandel
Scott Mosier
Voices of
Brian O'Halloran
Jeff Anderson
Jason Mewes
Kevin Smith
Alec Baldwin
Original Channel
ABC (2000)
Comedy Central (2002)
Original Run
May 31, 2000 – June 7, 2000;
December 14, 2002

Clerks (retronym: Clerks: The Animated Series) was an illfated American animated sitcom based on Kevin Smith's 1994 comedy of the same name. It was developed for television by Smith, Smith's producing partner Scott Mosier and former Seinfeld writer David Mandel with character designs by Stephen Silver.
Cast
Episodes
| # | Title | Airdate |
| --- | --- | --- |
| 1 | "Leonardo Leonardo Returns and Dante Has an Important Decision to Make" | December 14, 2002 |
| 2 | "The Clipshow Wherein Dante and Randal are Locked in the Freezer and Remember Some of the Great Moments in Their Lives" | June 7, 2000 |
| 3 | "Leonardo Is Caught in the Grip of an Outbreak of Randal's Imagination and Patrick Swayze Either Does or Doesn't Work in the New Pet Store" | December 14, 2002 |
| 4 | "A Dissertation on the American Justice System by People Who Have Never Been Inside a Courtroom, Let Alone Know Anything About the Law, but Have Seen Way Too Many Legal Thrillers" | May 31, 2000 |
| 5 | "Dante and Randal and Jay and Silent Bob and a Bunch of New Characters and Lando, Take Part in a Whole Bunch of Movie Parodies Including But Not Exclusive To, The Bad News Bears, The Last Starfighter, Indiana Jones and the Temple Of Doom, Plus a High School Reunion" | December 14, 2002 |
| 6 | "The Last Episode Ever" | December 14, 2002 |
References
Randal references these events (episodes) in a deleted scene of Jay and Silent Bob Strike Back
Community content is available under
CC-BY-SA
unless otherwise noted.